Pediatric Dentistry Clinical Attachment Program

Faculty Of Oral & Dental Medicine
Pediatric Dentistry Clinical Attachment Program
Staff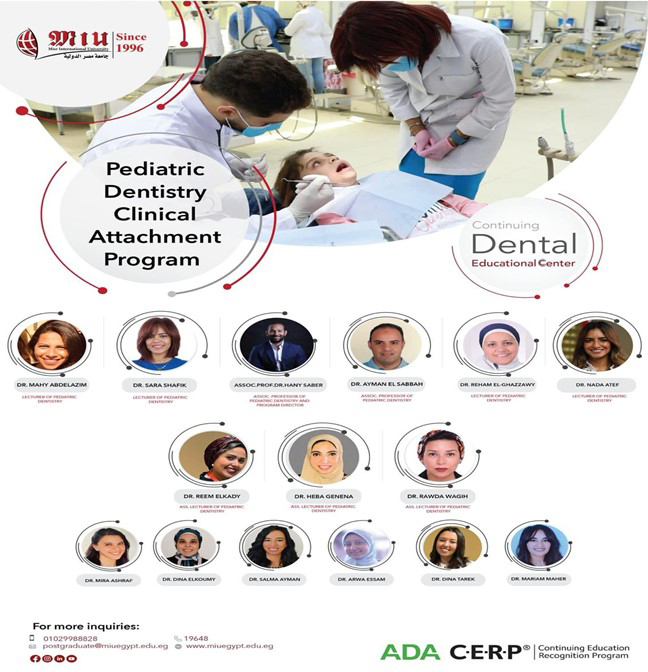 Learning objectives


The Pediatric Dentistry Clinical Program, ADA Continuing Education Recognized Program (ADA C.E.R.P), runs for 16 working days. This condensed program is designed to teach and enhance the candidates' ability to manage their daily workflow of pedodontic cases. The program tackles different topics including diagnosis, treatment planning, prevention and management of deep carious lesions and traumatic dental injuries in primary and young permanent dentition. It also tackles the recent advances in pediatric dentistry including recent armamentarium, techniques and radiographic interpretation. Since the main aim is to expose participants to a wide variety of cases, 25% of the program content is lectures & hands-on workshops and 75% is clinical work on patients.
ILOs:
Knowledge and understanding:
By the end of the program, students should be able to:
Recognize how to diagnose different pediatric dentistry cases along with proper case selection and treatment planning.
Identify behavior management in pediatric dental management.
Identify the morphological differences between primary and permanent dentition.
Recognize the methods of application of rubber dam isolation and its importance in Pedodontics.
Recognize how to deal with deep carious lesions in primary and young permanent dentition.
Recognize how to manage different traumatic dental injuries.
Recognize how to manage different space problems in children.
Identify all materials and techniques of full coverage in primary and young permanent teeth.
Identify recent materials used in pediatric dentistry.
Identify minimally invasive techniques of pediatric dentistry.

Intellectual Skills
By the end of the program, students should be able to:
Interpret preventive methods and caries risk assessment.
Interpret the importance of diagnosis and case selection.
Analyze the need to use drugs in cases of infection.
Distinguish minimal invasive techniques.
Interpret how to apply rubber dam isolation.
Distinguish recent methods and materials used in pediatric dental clinics.

Professional and practical skills
By the end of the program, students should be able to:
Apply accurate diagnosis, risk assessment and treatment planning.
Apply rubber dam isolation.
Apply accurate behavioral management strategies.
Apply minimal invasive techniques in Pedodontics.
Apply optimum preventive strategies for children.
Apply accurate management of deep carious lesions in primary and young permanent dentition.
Apply comprehensive management of dental traumatic injuries.
Apply different management methods for space loss problems in children.
Apply accurate local anesthetic techniques for children.
Apply different techniques of vital and non-vital pulp therapies including revascularization and endodontic treatment of young permanent dentition.

General and Transferable Skills
By the end of the program, students should be able to:
Exercise effective communication methods with other health care professionals and auxiliary personnel to maximize patient benefits and minimize the risk of errors.
Communicate with the surrounding community to properly express themselves and understand the needs of the patients, involved authorities, laws and regulations of the profession.
Use information technology to improve education and communication among all team members.
Demonstrate self-awareness and identify their own limitations through self-reflection, critical appraisal and peer review to identify their educational needs and performance of others.
Abide strictly by infection control standards.
Recognize and use different information resources to develop & enhance rational thinking & judgment.
Work in teams and participate in leadership activities.
Manage time and develop the ability to prioritize workload for better performance and management.
Recognize the value and role of lifelong learning, self-assessment and critical thinking in maintaining competency.
Evaluate personal progress to be able to assess their weaknesses and strengths and describe their role and responsibilities as adult learners.
Recognize documentation methods and their application with the help of the documentation center members for the sake of pre and post-operative case recording.