Contemporary Endodontics Clinical Attachment Program

Center of Career Development
Contemporary Endodontics Clinical Attachment Program
Staff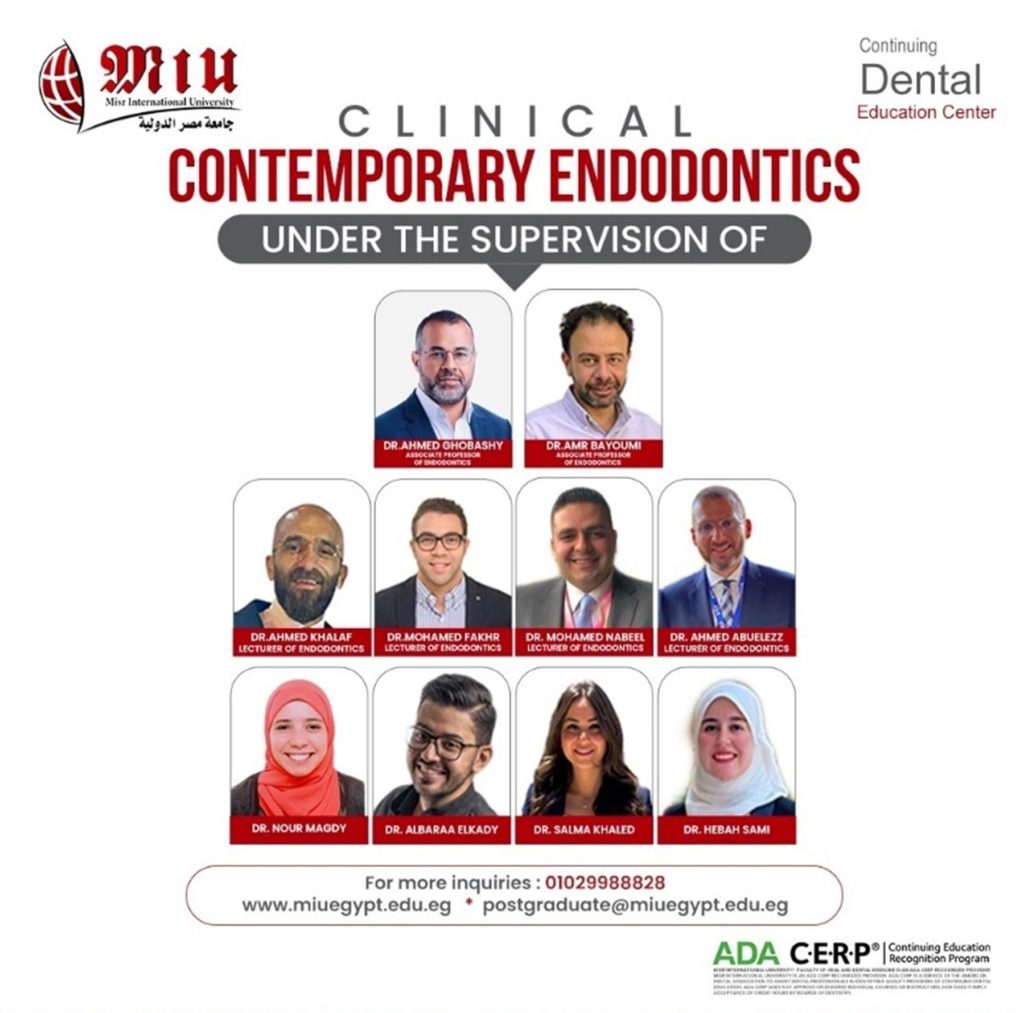 Program overview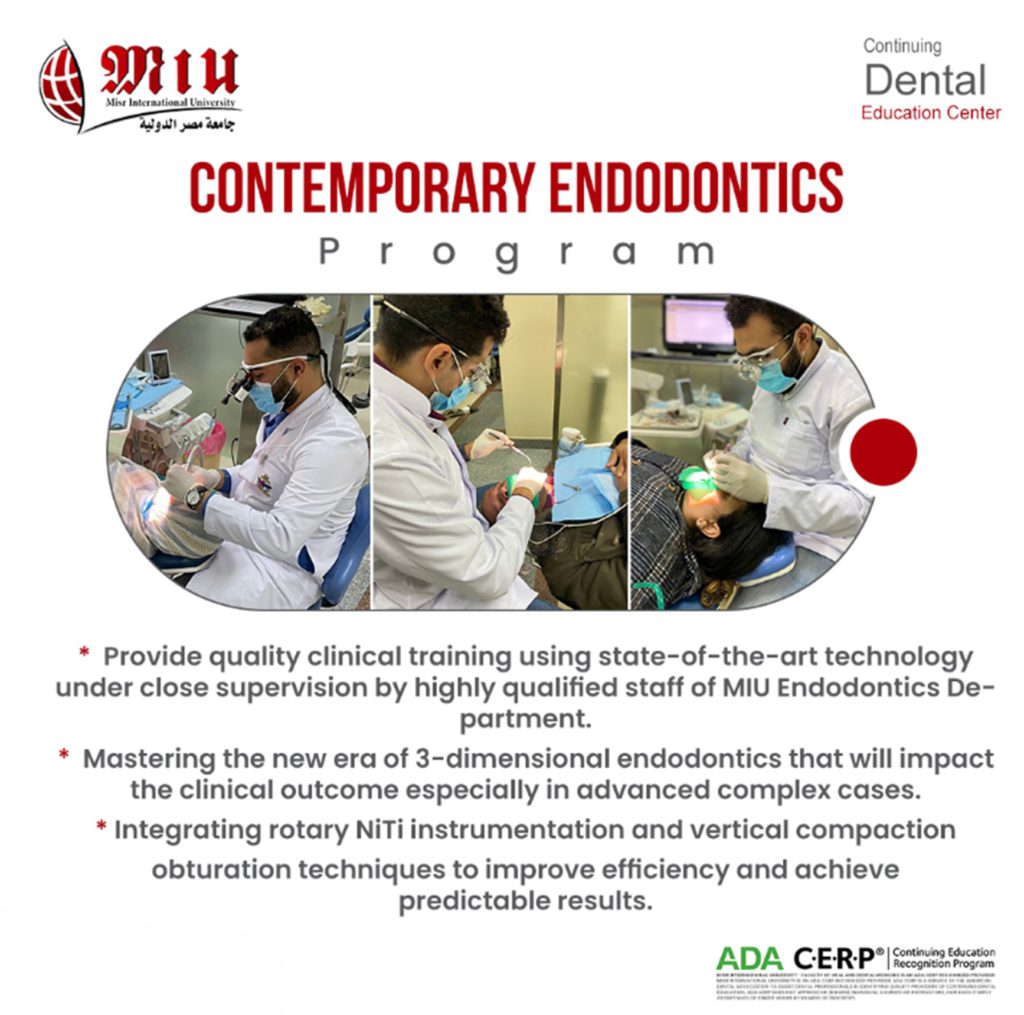 Learning objectives


The Contemporary Endodontics Clinical Program, ADA Continuing Education Recognized Program (ADA C.E.R.P), runs for 28 working days. This condensed program is designed to teach and enhance the candidates' ability to manage their daily workflow endodontic cases. The program tackles different topics including diagnosis, treatment planning, Cone Beam Computed Tomography "CBCT" interpretation, advanced molar endodontics with the recent shaping and obturation techniques. Since the main aim is to expose participants to a wide variety of cases, 25% of the program content is lectures & hands-on workshops and 75% is clinical work on patients.
ILOs:
Knowledge and understanding:
By the end of the program, students should be able to:
Recognize how to diagnose Endodontic cases along with proper case selection and interpretation of Cone Beam CT x-rays
Identify the applications of pharmacology in Endodontic treatment
Recognize how to deal with complex pulp anatomies
Recognize the methods of application of rubber dam isolation and its importance in Endodontics
Recognize different endodontic rotary systems for endodontic treatment
Identify recent rotary systems and how to choose the exemplary one
Recognize the need for Minimal Invasive Endodontics
Identify recent obturation techniques and sealers.
Describe ways of managing Endodontic Mishaps
Recognize the ways to use Magnification Loupes in root canal treatment
Identify the need for Magnification Loupes in scouting canals, management of broken files and perforation repair.

Intellectual Skills
By the end of the program, students should be able to:
Interpret CBCT.
Interpret the importance of Diagnosis and case Selection
Analyze the need to use drugs through root canal treatment sessions
Distinguish minimal invasive techniques during root canal treatment such as, conservative access, ninja access, small apical preparation, etc.
Relate the type of rotary kit to be used according to the case presented to the dentist
Interpret how to apply rubber dam isolation
Distinguish recent methods of obturation and recent sealer materials available.
Interpret the need for CBCT in root canal treatment

Professional and practical skills
By the end of the program, students should be able to:
Interpret CBCT images
Apply rubber dam isolation
Apply Minimal invasive techniques in endodontics
Prepare root canal in complex cases such as severely curved canals, limited mouth opening, young patients, etc.
Apply recent methods of obturation
Apply different management methods for different Endodontic mishaps such as broken file removal, post removal, ledge bypassing, crown removal, perforation repair, etc.
Apply the use of Magnification Loupes in finding canals, broken instruments management and perforation repair

General and Transferable Skills
By the end of the program, students should be able to:
Exercise effective communication methods with other health care professionals and auxiliary personals to maximize patient benefits and minimize the risk of errors.
Communicate with the surrounding community to proper express himself and understand the needs of the patients, involved authorities, laws and regulations of the profession.
Use the information technology to improve the education and communication among all team members and documentation
Demonstrate self-awareness and identify their own limitations through self-reflection, critical appraisal and peer review to identify their educational needs and performance of others.
Applaud strictly by infection control standards.
Recognize and use different information resources to develop & enhance rational thinking & prudent judgment.
Motivate students by encouraging team work and leadership activities and develop professional attitude at all times.
Manage Time and stress with the capability to prioritize work load for better performance and management
Recognize the value and role of lifelong learning, self-assessment and critical thinking in maintaining competency.
Evaluate personal progress to be able to assess one's weaknesses and strengths and describe the role and responsibilities as adult learners and at the same time teachers.
Recognize documentation methods and their application with the help of the documentation
center members for the sake of pre and post-operative case recording.

Gallery